2/ (Un)Structure
Lines, shapes, and disconnected points.
At some time in future, I'd like to sit down and write about story structure, but at the moment, I'm not quite ready. However, a bunch of tools and readings have come across my desk about it, so I thought I'd share.
Marketing Failures
Despite having about three-quarters of an essay on the structure of writing (not story structure), I can't seem to complete it for this week's newsletter. Instead, I'm ignoring it for an essay on my marketing failures. I hope it helps you not make the same mistakes.
Roam
I've seen a lot about this note-taking app recently. It's unique approach is to think less about writing as a linear hierarchy and more as collection of documents stitched together by association.
I love the concept, but the price and the lack of offline connection is keeping me away at the moment.
Notetaking Apps for Architects, Gardeners, and Librarians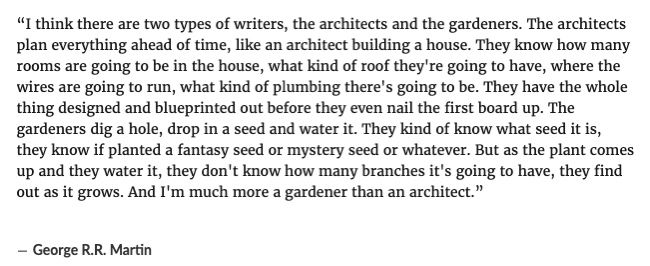 This tweet from Anne-Laure Le Cunff lead her to write an article on How to choose the right note-taking app. Although my current favourite writing app isn't mentioned (Drafts), she shares plenty of information about interesting note-taking apps (including more info on Roam)
Books with Unusual Structures
Austin Kleon reached out to his audience for recommendations on books with unusual but brilliant structures. Like I said, I've got some opinions about this, but I am very curious to read Jane Alison's Meander, Spiral, Explode: Design and Pattern in Narrative.
Circular Structure
I figured I'd share a classic structure: the circle.
A good place to start is Joseph Cambell's book The Hero With a Thousand Faces. After comparing myths across many cultures, he saw a similar shape of Departure, Initiation, and Return.

A good follow up to this is Christopher Vogler's The Writer's Journey, which applies this structure to the three-act story and screenwriting.
ShoSho
Lastly, I want to share ShoSho, which I used on this week's essay. An app similar to Grammarly and ProWriting Aid, it scans your document for errors, including hard-to-read sentences, filler words, and passive voice.
Although it doesn't have the features that other services have, this may work for some. Again, my major complaint will always be the requirement of the internet, especially when you are travelling.
David Gane Newsletter
Join the newsletter to receive the latest updates in your inbox.
Comments