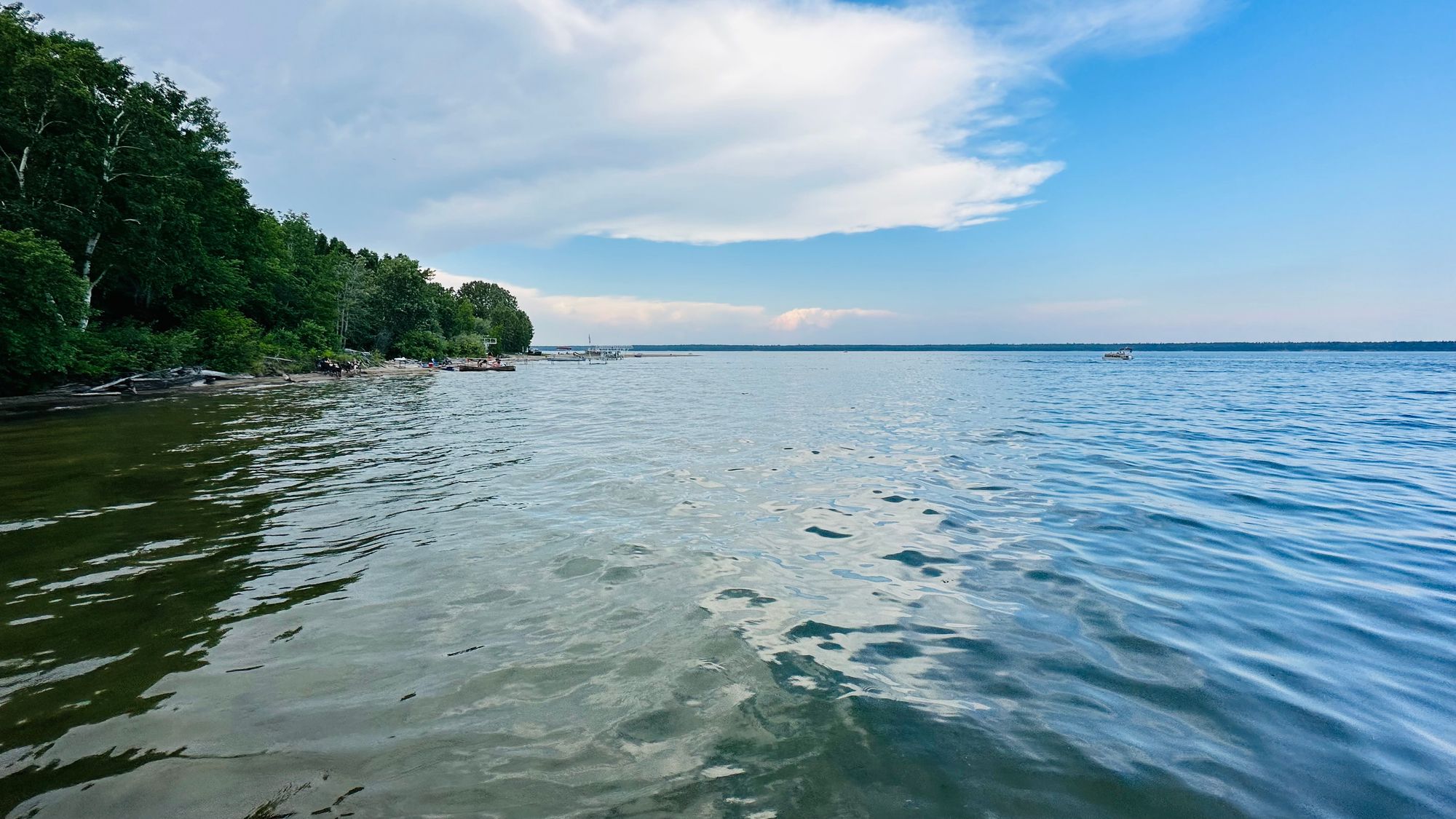 Sorry for the late newsletter. I was enjoying the Canada Day long weekend up north at the family cabin, and the internet wasn't great to send this out.
Well, kind of...
I've been struggling with this one. July 13 is the first anniversary of my daily blog, and I wanted to celebrate it with a reflective, thoughtful piece, but I couldn't figure it out. Then the internet sucked and gave me an excuse not to send it—but it also reminded me why I started posting daily in the first place.
This time last year, I was traveling every weekend to check on my older mother, who needed assistance. After helping her, I'd travel to the cabin and huddle up for a few days of work and rest before driving home.
During this time, I was feeling really lost. I'd finished teaching and not planned on doing another semester. I was also looking for different work but not finding any, and trying to write a bi-weekly newsletter that wasn't growing.
On top of it all, the cellular service sucked.
I'd get frustrated trying to research links, post the blog, and upload photos. It made doing pretty much anything on my phone or iPad really challenging.
But, like I said, I was lost and frustrated and just wanted to give up.
Yet, I enjoyed writing and posting on my website. I like sharing, and I'm always hoping that something I say might help someone struggling with their writing.
One weekend at the cabin, I read about atomic posts, which encouraged writing short essays, 250 words or less. I like the idea, and since it was easy to write and required no pictures, I decided to try it.
I don't know why I chose to do it daily. A part of it was the challenge—I had written ten scripts in a year and 30 stories in a month—and part of it was building a routine.
I struggled a lot in the beginning. The schedule was challenging, and I had trouble finding ideas. There were many weekends I'd sit on the couch in the cabin writing blog posts that I'd use to fill in the days I'd missed.
Eventually, I found my rhythm. I didn't worry if I missed a day or two, and I learned a process that let me always find an idea to write about. I learned to just show up and do the work.
Now, it's become a part of my daily habit.
Every night, I go upstairs, do another post, and share it with the world. But instead of trying to do it for some stranger that may never read it, now I do it for myself, whether to remind future me about something important or to share something with my younger self who suffered writer's block.
It's also become a resource I use when teaching and helping others. If I can't remember something, I go online, research it on davidgane.com, and find the answer.
Overall, the daily blog has helped me.
It lets me express myself daily and put my thoughts and ideas on the page. I'm no longer chasing after readers but doing something I enjoy, regardless of the numbers. I feel like I'm helping others—even if they don't know they need the help yet, or I'll never meet them. It has also given me the confidence to open up my coaching work and support writers looking for extra help. Most importantly, I can do it without barely any cell signal.
So here is to my first year of daily blogging, and hopefully to many more.
Thank you for reading.
---
Shoutouts
📖 Reading:
After not reading much the past few months, I had a busy month. I finished How to Do Nothing by Jenny Odell, The Plot by Jean Hanff Korelitz, and Where the Crawdads Sing by Delia Owens.
📺 Watching:
My family and I finished Silo and can't wait for season 2. We finally started watching Atlanta and like it. Platonic still makes my wife and I laugh (Rose Byrne is wonderful in it). I gleefully liked Evil Dead Rise. (Anything with that kind of bloody ending is fun.) Oh, and speaking of endings, Spider-Man: Across the Spiderverse left me breathless.
🛠️ Using:
I recently had to upgrade to a new phone after my old one started acting up by hiding apps, was incapable of opening some web pages, and burned through its battery in a few hours. I went with the iPhone 14 Pro for the camera, and I'm happy I did. I've fallen in love with taking photos again.
Also, I have a subscription to Apple Arcade and play a lot of Solitaire+, Grand Mountain+, and Threes+. I have also found that I use Apple's Freeform for quick notes more than the actual Notes app.
🗣️ Quoted:
Focus on what fascinates you, no matter how uncharacteristic. There is no purpose because there is no line connecting moments in time. There is no plot. You are not a story.
— Derek Sivers, Dashing Dog, Searching for Purpose
---
Thank you for reading
That's it for this month. If you liked this newsletter and want more, visit my daily blog.
I also help others with their writing. If you're interested, please visit my coaching page.
David Gane Newsletter
Join the newsletter to receive the latest updates in your inbox.
Comments