The journeys that challenge us
But are still worth it.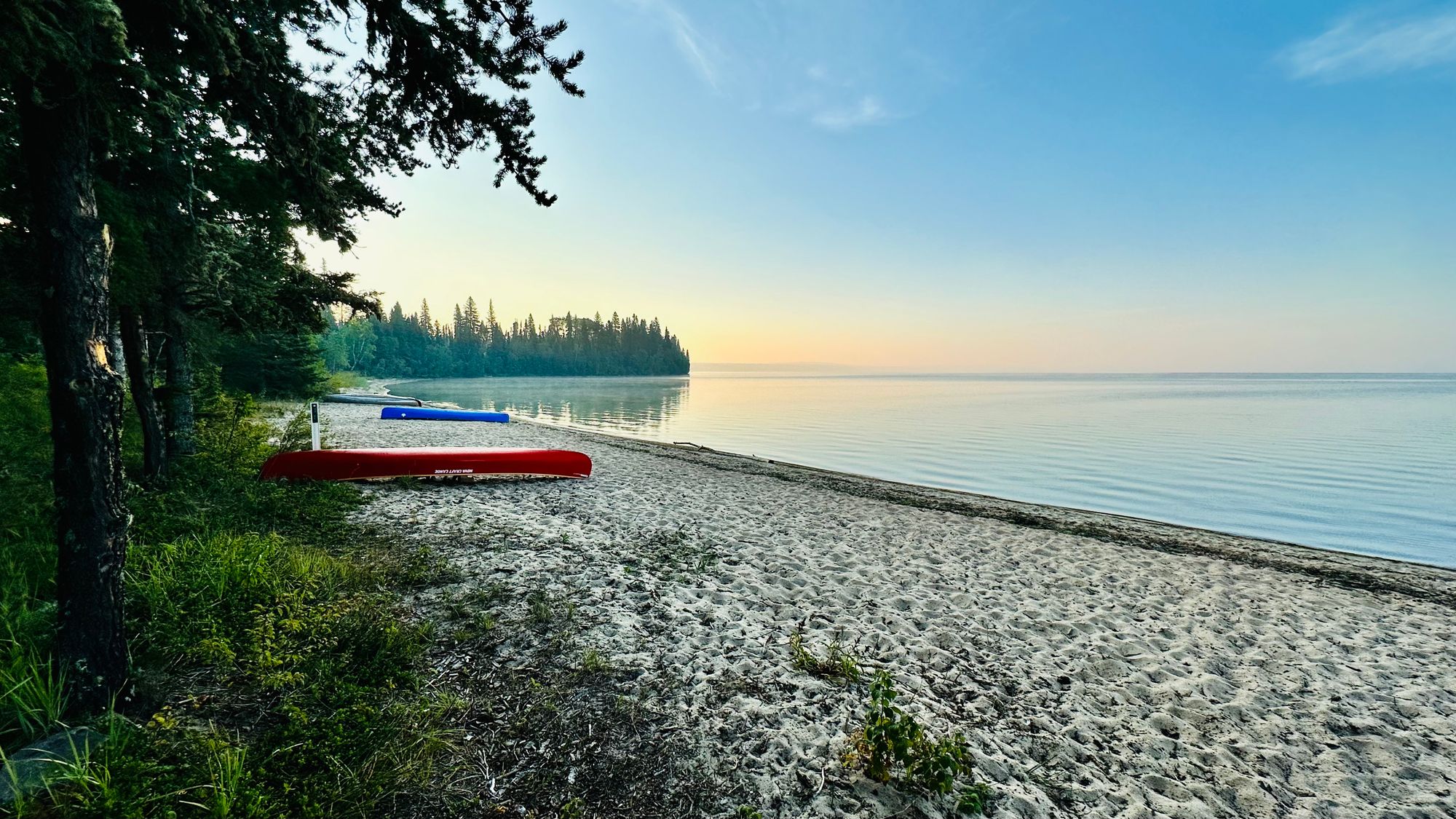 Hi, David here. This monthly newsletter is a collection of links and personal stories published on the first of every month. I also have a daily blog about writing and am a writing coach. If you want to unsubscribe or subscribe to all of it, please visit your account page or contact me. Thank you for being here.
---
I have two very different stories this month—but strangely, what I took from them was the same.
The first story was about a backcountry hike I took with my son a few weeks ago. We went to the cabin of Grey Owl, a British-born conservationist with a complicated history.
It was our first backcountry trip, and the experience was worth it. We hiked 40 kilometers over two days through the northern Saskatchewan forest. The chance to spend time with my son and camp in a remote place was incredible.
It was also challenging. We were under-prepared for the weight of our packs, and I'll probably lose a toenail or two because of it.
However, I'd do it again in a heartbeat.
The second story is more personal. After my wife Kate left for her trip to Greece, I regretted not going and missed her quite a bit. Unfortunately, I got in my head and spiraled into some negative thinking. I knew what I was doing but couldn't stop myself—mostly because I hadn't learned the tools to counteract it. I had a few dark days, and it wasn't until I had a wonderful conversation with Kate that I got centered again.
The experience sat with me, and I spent the rest of the month reflecting on it. I noticed how easily I let assumptions run amok in my head. Most of the things my thoughts were telling me were wild leaps of logic or unchecked guesses.
Ultimately, I did some reading, developed some strategies and tools, and feel more prepared when it happens again.
---
What surprises me about these two experiences is how they were both about challenge, struggle, and pain but also so rewarding.
One hurt my hips, shoulders, and toes and took every ounce of my stubbornness to complete. Yet it was also a fantastic journey through the forest with my son before he started university that I'll treasure for a long time.
The other hurt a lot and made me feel lost, alone,  and emotionally spent. But it also made me aware of different aspects of myself, taught me some lessons, and guided me toward tools that will help me in the future. I'd've never discovered any of this without going through the experience.
So yes, both hurt and will leave their mark, but if I hadn't gone through either of them, I wouldn't have the rewards I will carry on for years.
---
Shoutouts
📖 Reading
The Four Agreements by Don Miguel Ruiz and The Fifth Agreement by Don Miguel Ruiz and Don Jose Ruiz
I hesitate to put these in here because they're not really my language. However, I knew about the first one from my writing partner, Angie, and knew that the third agreement was "Don't make assumptions," which is exactly what I did earlier this month. I've also benefitted from the second agreement: "Don't take anything personally." I'm still not 100% comfortable putting these here—but I've also found comfort in their words.
The Fun Scale by Kelly Cordes and  What are the Three Types of Fun by Tim Peck
I initially had these two articles in the above essay but knew they didn't fit. What I related to was Type 2 fun, which "is miserable while it's happening, but fun in retrospect." But it was this quote that also stuck:
The thing about the 3 types of fun is that, for the most part, these experiences are subjective and often change over the course of time. As memories fade, Type 3 Fun becomes Type 2 because, in hindsight, it wasn't really that bad. Or, the Type 1 day becomes Type 2, as you realize years later how close to the edge you had been.
I worry I may have stumbled down that hole with this month's experience as well.
📺 Watching
Van Neistat
I tend to watch a lot of building videos on YouTube (another favorite of mine is Blacktail Studio). I find it very relaxing to watch someone take the time to craft an object. The methodical, philosophical, and structured approach Neistat takes to shelves, gift-giving, and tools is calming and thoughtful.

After Party Season 2 and Only Murders in the Building Season 3
I am pairing these together. I am halfway through and although I don't hate them, I'm not sure if I'm thoroughly enjoying them yet.
The Bear Season 2
Yes, I've already mentioned this one, but I watched it again with my son (and now watching episodes with my wife). I continue to find pleasure and insight out of it and really appreciate the work the cast and crew have put into this treasure.
🛠️ Using
Osprey Rook 50
I quickly learned the importance of packing light on our hike, and that began with my backpack. I was about to buy the Rook 50, but doubted it could hold my equipment. I took a different, cheaper brand into the woods and immediately regretted it. It was too heavy and sat uncomfortably on my hips and shoulders, and as soon as I got back to the city, I invested in the Rook 5o for my next trip.
DavidsTea Organic Cinnamon Rooibos Chai
I've never been a tea person. Usually, it upsets my stomach or gives me headaches, but for some reason, this has become a favorite of mine in the evening.
Little Alchemy 2
A free web-based game where you combine elements to create new elements. You start off with basic elements and build them into more complex items. There are 720 items to be discovered and I am at 381.
👏 Friend of the Newsletter
A special shoutout to Tammy Ottenbreit who just released her first book Unspoken. It's a story about family discovery—and the impact of the past. I first met Tammy while I was the writer-in-residence at the Regina Public Library and helped with this book. I'm so happy and proud of the work she's done!
🗣️ Quoted
The way to keep yourself from making assumptions is to ask questions. make sure the communication is clear. If you don't understand, ask.
— Don Miguel Ruiz
---
Thank you for reading
That's it for this month. If you liked this newsletter and want more, visit my daily blog.
I also help others with their writing. If you're interested, please visit my coaching page.
David Gane Newsletter
Join the newsletter to receive the latest updates in your inbox.
Comments