Tales End Story Cubes Nicole Donut and Learning
1
I have never played RPGs (although my kids have), but Tales' End, recommended by Morgan, my TA, is intriguing. Focused on storytelling and improvisation, it can be played with up to six players, or can be done by one person as a journalling exercise.
2
Since we are talking games: back when I was doing videos on here, I planned on doing a series where I tried various writing tools and recorded my results. My first test was to use Rory's Story Cubes.
I liked the idea of the dice, which you rolled to get story prompts to build your the stages of your story. I always thought they would've been good in a classroom setting.

3
Since I snuck into writing novels via the back door of scriptwriting, I never got the traditional Arts education. Unfortunately I missed out on double entry journals and Point Evidence Explanations. Enter Nicole Zhu (aka Nicole Donut) to show me the way. She shares how she used it in a writing workshop she took.
The idea is to create two columns, one with the passage you'd like to study and the other where you write a list of observations.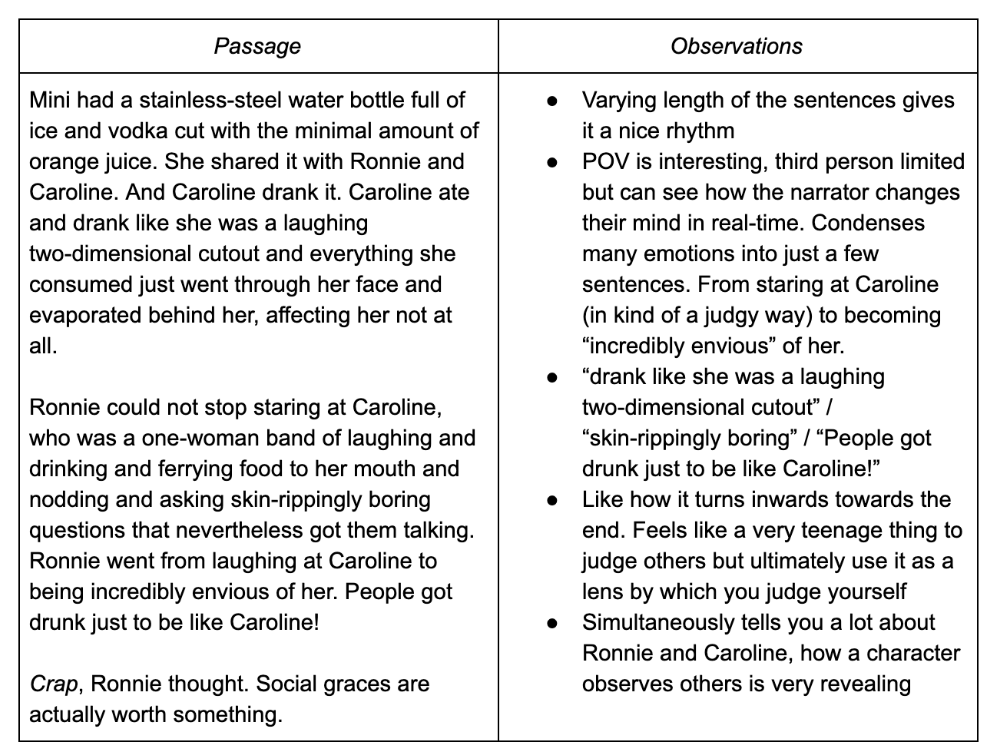 I tried a similar activity long ago, but separated the two columns too much to be as effective.
Also, be sure to sign-up to Nicole's newsletter. It really is something special.
4
Listening to today's episode of Seth Godin's Akimbo (and question #2 to be exact) reminded me of a discussion Morgan and I were having about teaching, learning, and students.
I always question how much help I should offer. Too much seems like hand-holding. Too little seems like I'm not empathetic to them and their lives. I recently heard a study (still looking for the source) saying that if we give too much, students don't develop the necessary skills to continue building on their own. And sometimes, I agree, especially when the answers I give are in the textbook. But also, the system has been disrupted. The way we learn has been disrupted, and I feel as a teacher, I need to empathize.
Coming back to Seth, I wonder if we all need to build new tools to carry on. We're all waiting for the pandemic to end and for life to get back to normal—but will it? Schools opened at the start of the year, but now some are closing due to outbreaks. Is it time we start adapting more long term strategies?
And finally, my students and the class: the class has always been built around the practice of writing. In my first class, I say I believe in continuous learning, but I don't build it into the course. Perhaps what I need is to encourage it better, baked into the weekly process.
Now I just need to figure out what that looks like.
David Gane Newsletter
Join the newsletter to receive the latest updates in your inbox.
Comments